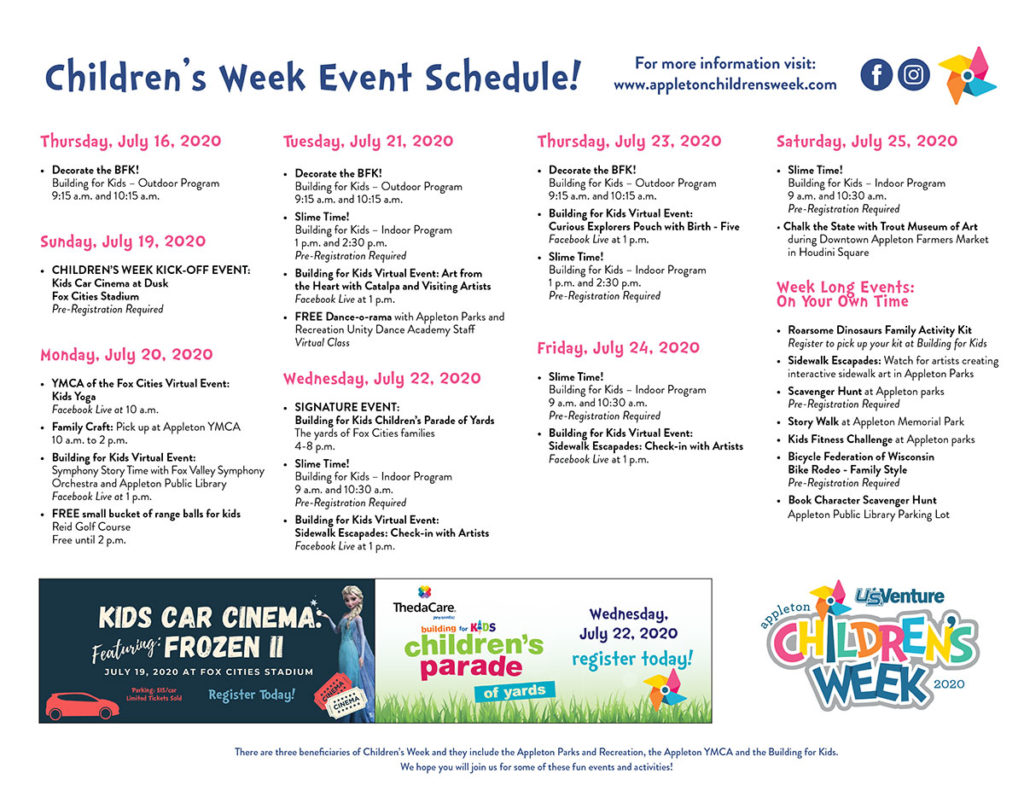 Sunday, July 19, 2020
Monday, July 20, 2020
YMCA of the Fox Cities Virtual Event:
Kids Yoga
Facebook Live at 10 a.m.
Family Craft: Pick up at Appleton YMCA
10 a.m. to 2 p.m.
Building for Kids Virtual Event:
Symphony Story Time with Fox Valley Symphony
Orchestra and Appleton Public Library
Facebook Live at 1 p.m.
FREE small bucket of range balls for kids
Reid Golf Course
Free until 2 p.m.
Tuesday, July 21, 2020
Decorate the BFK!
Building for Kids – Outdoor Program
9:15 a.m. and 10:15 a.m.
Slime Time!
Building for Kids – Indoor Program
1 p.m. and 2:30 p.m.
Pre-Registration Required: Members: FREE  |  Non-Members: $7-$20
Building for Kids Virtual Event: Art from
the Heart with Catalpa and Visiting Artists
Facebook Live at 1 p.m.
FREE Dance-o-rama with Appleton Parks and Recreation Unity Dance Academy Staff
Virtual Class
Wednesday, July 22, 2020
Thursday, July 23, 2020
Friday, July 24, 2020
Saturday, July 25, 2020
Week Long Events –
On Your Own Time:
Roarsome Dinosaurs Family Activity Kit
Register to pick up your kit at Building for Kids: Members | Non-Members
Sidewalk Escapades: Watch for artists creating
interactive sidewalk art in Appleton Parks
Scavenger Hunt at Appleton parks
Pre-Registration Required
Story Walk at Appleton Memorial Park
Kids Fitness Challenge at Appleton parks 
Bicycle Federation of Wisconsin Bike Rodeo – Family Style
Pre-Registration Required
Book Character Scavenger Hunt
Appleton Public Library Parking Lot
Community Events – More Information
Appleton Public Library Character Hunt
Drive through the library parking lot and see how many book characters you recognize. Visit apl.org/kids for a complete list of characters hiding in the parking lot. Learn about some favorite book characters and make new book character friends. Visit apl.org/curbside to request a contactless pick up of children's materials.
Bicycle Federation of Wisconsin Bike Rodeo – Family Style
Family education on bike safety!  Help your kids be safe as they enjoy the freedom and independence of riding a bike. Give yourself peace of mind and confidence by learning how to teach the skills that will help keep your kids safe. Due to the small family groups, we will be able to work at your child's ability level and encourage youth ages 6-15 to attend.
We will work at skill stations to teach children the habits and skills needed to avoid the most common crashes between children on bikes and people driving. After learning and practicing at bike rodeo stations, we will then complete a skills test to determine where we will go on a short 5-15 minute ride to practice what was learned.
Parents will be observing and learning tips on how to continue teaching their kids at home. Then can enjoy following our short ride on their own bicycles.
Pre-Registration Required here
Trout Museum of Art
Chalk the State, featuring Irineo Medina, at the Trout Museum of Art. Take to your sidewalks, driveways, and parking lots to spread positive messages, inspire change, and create bright, joyful works of chalk art. Grab some chalk and #chalkthestate Saturday, July 25 during Downtown Appleton Farmers Market in Houdini Square.