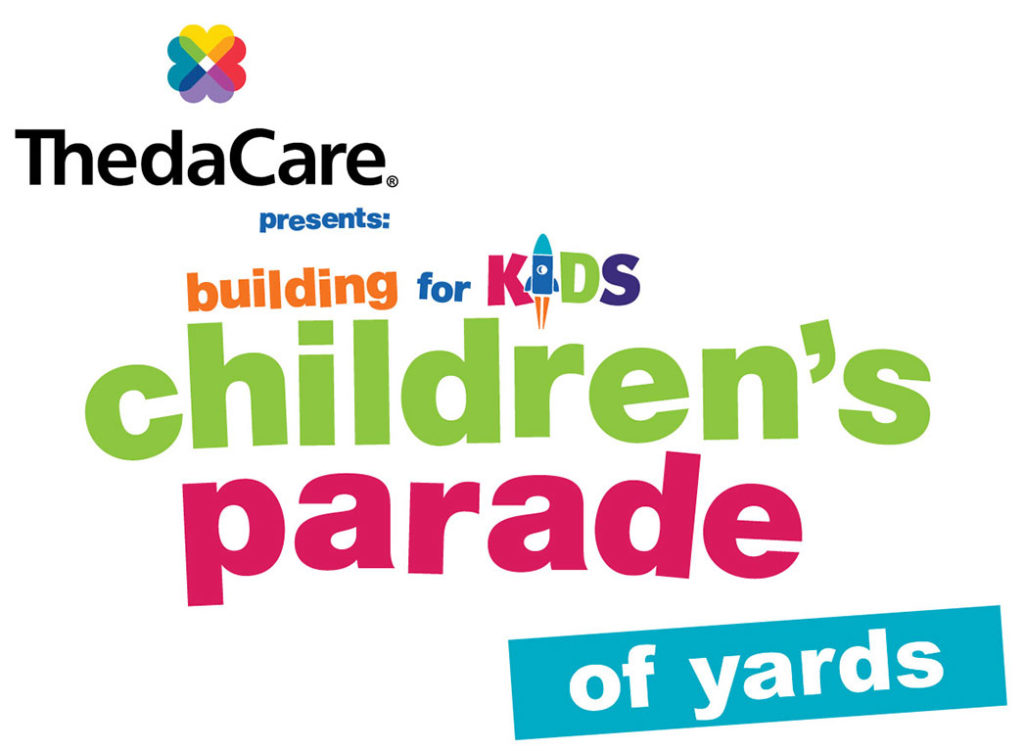 Join us for the Building for Kids Children's Parade Wednesday, July 22, 2020!
About the Children's Parade of Yards Sponsored by ThedaCare
This year, the Building for Kids is reimaging our annual Children's Parade into a parade of yards! Much like the driving tours of light displays we have come to know and love at the holidays, the BFK's Parade of Yards will feature creatively decorated yards throughout the community. Families will come together to brainstorm their theme and will engage with each other throughout the design process. Then they will have the chance to add their address to a map so that families can take a driving tour to view the parade of yards!
On Wednesday, July 22, families are being invited to take a driving tour from 4 – 8 p.m. to view the Parade of Yards, 38 houses throughout the Appleton area.
Thank you to our Presenting Sponsor!
2019 Building for Kids Children's Parade
History of the Children's Parade
Each year, the Building for Kids hosts a children's parade in downtown Appleton. Traditionally, kids and their families stroll down College Avenue in themed costumes and non-motorized floats in a parade all about them! They create their floats by decorating bikes, wagons, and strollers. Over the past decade, the Children's Parade has evolved and grown, but our goal has remained the same: to celebrate children and inspire their creativity.
FAQs
How much money does it cost to participate in the parade?
The parade is free! However, we do ask that you register by Friday, July 17, 2020.
Are there any rules for decorating my yard?
We ask that all themes be kid-friendly and that you observe local public health guidelines when planning and decorating.
When does the parade start?
Yards can be decorated all week long (July 19-25, 2020), but should be ready to be showcased between 4 – 8 p.m. on July 22, 2020.
What are the award categories?
As we have since the beginning of the Children's Parade 11 years ago, awards will be given on the themes of Imagination, Creativity, and Confidence.
Safety Policies
To help us protect the health and safety of all involved, we ask that participants adhere to the following policies:
As you take your driving tour, please limit your car to one household
Yards are for viewing only – please do not exit your vehicle
Registration
Your registration will ensure that your yard will appear on the map and be eligible for awards. Registration is now open!
Registration is now closed.